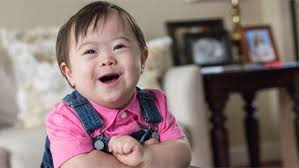 Kelly B. Todd Cerebral Palsy and Neuromuscular Center
Lake Area United Way fights for the health, education, and financial stability of everyone in our community. We fight for Jane and we win when Kelly B Todd CP Center is able to make Jane and her family's life a little easier by not charging for services Jane so badly needs.
*Jane comes to KBT twice a week for physical, occupational and speech (swallowing) therapy. Jane was diagnosed with Down syndrome shortly after she was born. She was hospitalized in the NICU for over a week. Two months later she was hospitalized for heart surgery and again hospitalized to repair a ventricular septal defect and atrial septal defect.
Intensive bi-weekly therapy began when she had recovered fully from the two surgeries and evaluations began at 9 months. Initially, Jane was unable to roll, sit unsupported, eat or swallow without difficulty. Currently, at 2 years of age, she can pull up to a standing position and walk with the aid of one hand support or with a gait trainer (walker). She has shown great improvements with her strength, stability, balance, and functional mobility since the beginning of therapy at KBT. It has been a joy to witness these improvements over the last year! Just think about the cost of all the therapy services that Jane requires - and how crippling for a family, even if they have insurance to help with some of that cost. KBT has never charged Jane's family a dime for her therapy. We can do that only because people are willing to donate to our cause and allow our staff to invest time and expertise in helping a child reach their full potential!